HKF40/HKF52 with and w/o bearer cable
PVC-flat cable according to VDE0250
Stable flexible lift control cable without carrying elements for use in dry and damply rooms, at medium range machanism demand. Applicable as trailing cable up to heights of 80m (see lenth of restoring) by using adequate clamping units. Two wire Twisted Pair for BUS-signals (e.g. CAN).
Bodywork
Cable: PVC flat cable bundle stranding
Conductor: 0.75mm² stranded copper wire blank 24×0.2mm
Cond. isolation: PVC 0.4mm
A: yellow 1 – 12 | B: withe 1 – 12 |C: orange 1 – 12    D: green 1 –12
T: withe two pairs Twisted Pair numbered 1/2 and 3/4
Twisted Pair: Additional PVC isolation, additional conductor for shielding
Carrying elem.: without, or rather 2x 4mm steel rope
Overjacket PVC grey, flexible at low temperatures down to -30°C
Inscription: Type of cable, manufacturer, lenth marker
Technical data
Nominal voltage: 300/500VAC
Temperature range: -30°C to +70°C
Bending radius: HKF:>150mm HKFT: >200mm
Certificate: CCC No. 2004010105119789 CE-LVD-0502
Product-standard: GB5023.6-1997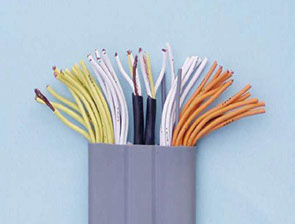 TVVB 36 x 0,75mm2 + 2 x 2 x 0,75mm2 (TP)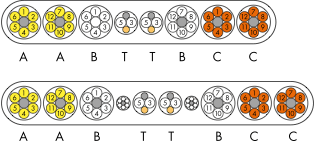 TVVB 48 x 0,75mm2 + 2 x 2 x 0,75mm2 (TP)

MP3 Voice Announcer OT.VA/C
SD-Card can store voice data, background music or advertising.
File type: MP3
Easy file changing over Computer
CAN-communication or binary code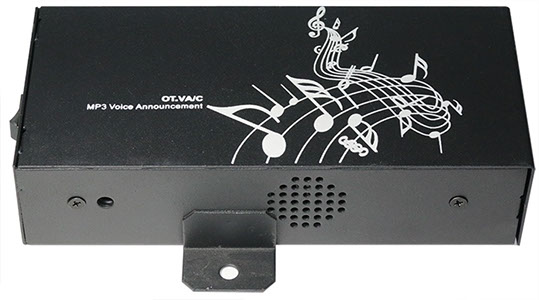 Electronic Gong EM6A
EM6A with integrated euphonious gong sounds is especially developed as lift gong. EM6A features with it´s small size – it also can be used as floor gong and can be combined with arrival flares. As soon as the power supply.
Specifications
Inputs: 2
Logic:aktive Low/ High
Number of gong sounds: 6 alternative
Sound selection: by using jumper
Installed loudspeaker: 1 Watt, 4
Amplifier output performance: 1 Watt, Ro = 4
Supply voltage:  DC 12-24 V/ 180mA(DC-DC)
Dimensions: 110 x 50 x 45,2 (mm)
Volume control: yes / max. 80 db
Metal box (optionally) yes
Consumption (audio output): 150mA at DC 24 V input
Operation temperature: 0°C – 70°C
Watch Dog fuction yes
Time interval input signals: min. 80m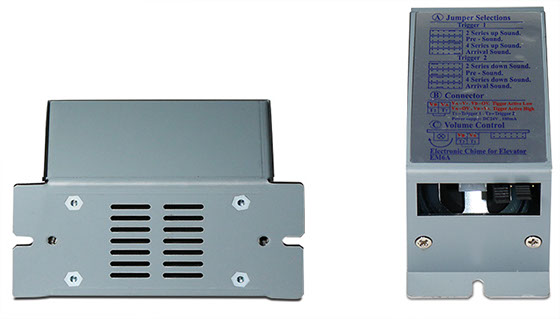 Car top box (Compact)
Compact design
Fully integrated in cabin frame
No mounting device (railing) necessary
Direct connection of Inspection control box, trailing cable,
Safety loop, CAN- Bus, Carlight, COP,…